Our Males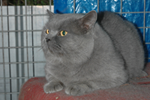 Rajah Maurice
Maurice is a blue very solid coby boy with a real attitude, great chest and heavy boning. We have used him quite a lot in our breeding programme as he sires very compact solid kittens. Thanks to Barry & Lorraine Hillier – Sharad for trusting us with this boy.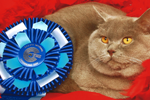 Gd. Ch. Dynamik Magik Merlin
At the 2004 CCCofA National Show held in Brisbane, Queensland, he won best and reserve British kitten, and consistently placed in the top 5 in all other rings. "Leo" is a lilac boy, with a great nature: he is the gentle giant of the cattery and is often found lazing on the lounge room sofa or sprawled in front of the heater on a cold winter's night. Leo has a wonderful frame, huge chest, dense plush coat and good deep eye colour. We have used Leo in both our British programme and our very small Scottish Fold breeding programme as we are trying to reproduce Leo's temperament, big eyes, good boning and of course his beautiful deep lilac colour as well as all the other assets that Leo possesses. Dynamik Magik Merlin was bred by my wife Yvonne and her daughter Leigh Voogd – Jessicaz.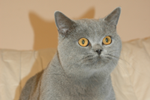 Marshall Park Rossmore
Still a kitten at 15 months Rossmore is a deep blue colour and has just sired his first litter. Rossmore has a top temperament and a wonderful dense coat, great eyes and good boning. We have every expectation that he will do a wonderful job for us as he matures over the next few years. Special thanks to Tom & Margaret Marshall – Marshall Park.
Wykham Conqueror
We also have a red boy "Tassie" who has sired some wonderful blue cream tortie females. We no longer use him a lot in our British but he is used regularly in our small Scottish Fold breeding programme. Thanks to Alan Southern – Wykham.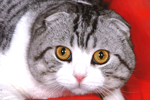 CCCA Gd Ch & Gold Gd Ch Jessicaz Silver Jasper
FCCV Group 3 Cat of the Year 2006. Jasper was bred by Yvonne's daughter and granddaughter Leigh & Jessica Voogd – Jessicaz. This beautiful boy is a joy to handle and only came to us due to Leigh's ill health. What a delightful addition to our family Jasper makes, he forms the main part of our very small and controlled Scottish Fold breeding programme. Thank you Leigh for entrusting your baby to our care.