Our Females

Dynamik Miss Chanelle
Chanelle is a blue cream tortie bred by Yvonne, we also have her full litter sister Dynamik Miss Candybelle both these queens have fantastic temperaments and are a pleasure to have in the house and the cattery.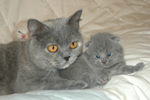 Dynamik Miss Lu Lu Photos
Lu is certainly our most compact female with the best eye shape and colour. She is quite at home lounging on the furniture throughout the house and is also a pleasure to have in the cattery.
Keturah Claire

Claire is a one of Maurice's daughters, she is a beautiful lilac colour. Claire is raising her first litter a litter of 5 healthy kittens and doing a really great job. However, at the moment she seems to have become addicted to weet-bix as each morning there is a fight over Warren's breakfast until he makes Claire a special bowl of her very own.
Keturah Gabby Photos
Gabby is a solid blue and has a very large frame for a female. She has a wonderful temperament eye shape and colour and has a think plush coat texture: also a joy to handle.
These are some of our 8 breeding queens.
If there are any newer breeders looking to get a start please contact us as maybe we can help.